VERY LATEST NEWS & CHAT ON THE MESSAGE BOARD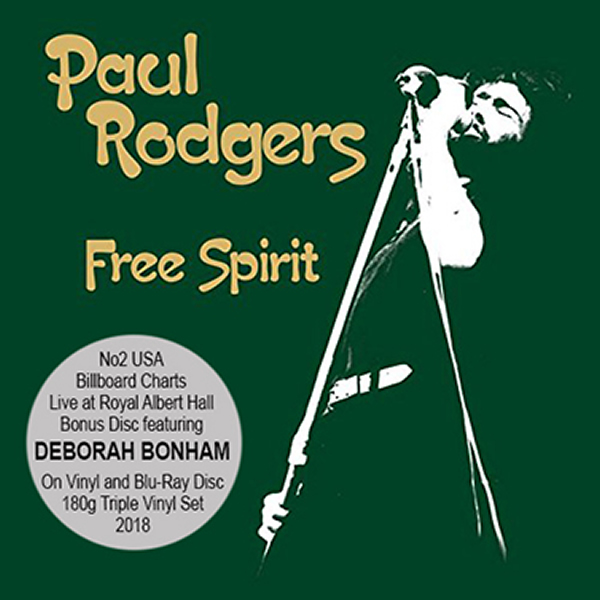 "Following the success of 2018s Stars Align USA Tour featuring Paul Rodgers, Deborah Bonham, Ann Wilson, Jeff Beck, Quarto Valley Records release Paul Rodgers Live from London's Royal Albert Hall with Paul backed once again by Deborah Bonham's Free Spirit band, Peter Bullick (guitar), Ian Rowley (bass), Gerard Louis (keys) and Rich Newman (drums). The release features Deborah Bonham on the Vinyl 3 Record Set and BluRay of the USA Billboard No.2 album. Available Digitally, CD & DVD Digipak set, Triple Vinyl set and Blu-Ray Discs"
NEWS & TOUR DATES 2019
2019 Deborah Bonham & The Band Back In the US of A
Wed 1 May WONDER BAR (with Terry Reid) Asbury Park NJ
FIFTH & OCEAN AVENUES, ASBURY PARK, NJ T:732-455-3767
Read more here: https://wonderbarasburypark.com/
Thu 2 May 118 NORTH, Wayne PA
118 N WAYNE AVE, WAYNE, PA 19087 T:610-971-2628
Read more here:
http://www.118northwayne.com/event/1829760-deborah-bonham-wayne/
Sat 4 May THE CUTTING ROOM, New York City NY
44 East 32nd Street New York City T:212 691-1900
Read more here:
https://tickets.thecuttingroomnyc.com/event/1824261-deborah-bonham-new-york/
Tue 7 May CAFE NINE, New Haven CT
250 State St New Haven, CT 06510 T:203-789-8281
Read more here:
https://www.cafenine.com/event/1827233-deborah-bonham-new-haven/
Thu 9 May DARYL'S HOUSE CLUB, Pawling NY
130 Route 22 Pawling, NY 12564 T:845 289 0185
Readmore here: https://www.darylshouseclub.com/
https://www.ticketweb.com/event/deborah-bonham-daryls-house-tickets/9172405?pl=daryl
UK & EUROPE

Sat 15 June LA CAVE, Hastiere, BELGIUM
Readmore here: https://www.lacavehastiere.be/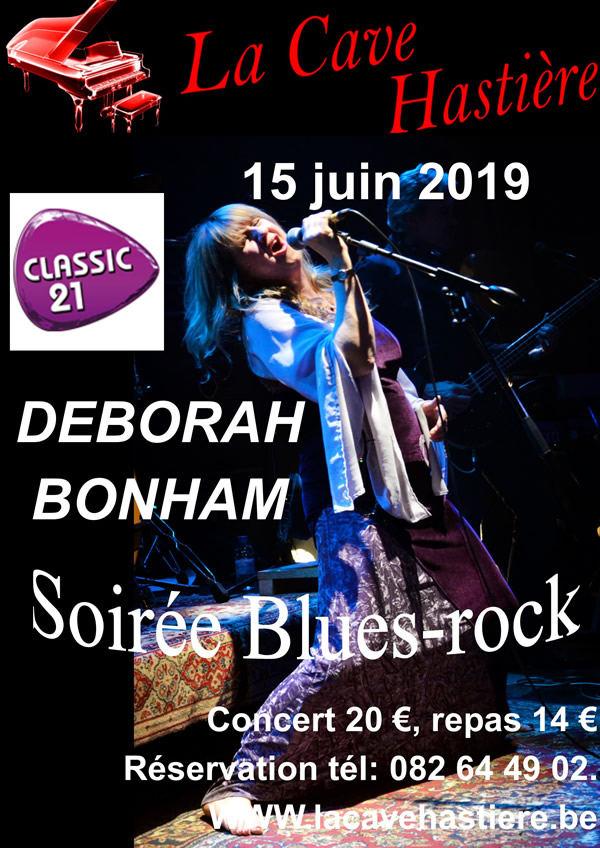 Sun 16 June CANTERBURY UK BLUES ON THE FARM FESTIVAL, UK

Read more here: https://bluesonthefarm.com/artists-schedule#2019-line-up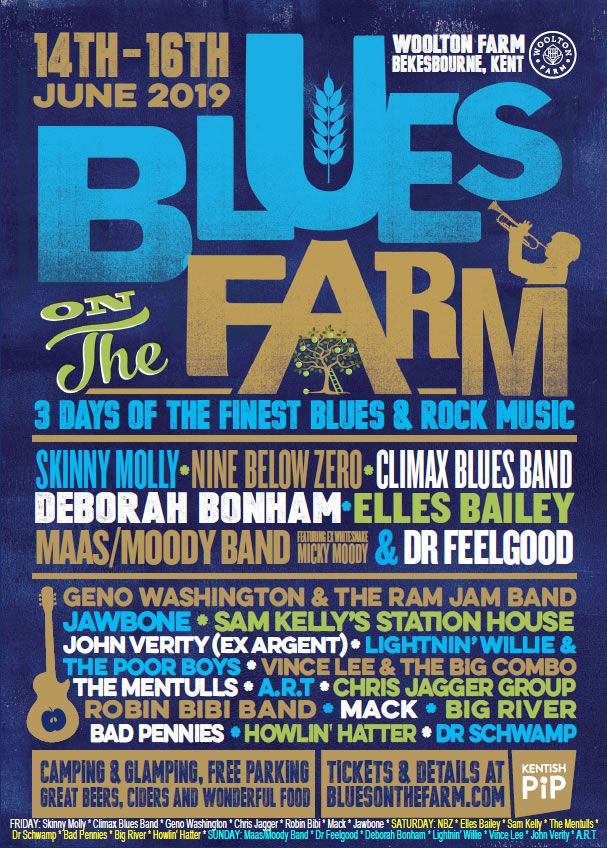 Sat 13 July LONDON Cadogan Hall, UK
Celebrating Lonnie Donegan's Rock Island Line

Read more here: https://www.songkick.com/festivals/2948384-rock-island-line/id/37449894-rock-island-line-2019?utm_source=11593&utm_medium=partner&utm_campaign=widget&utm_content=3331826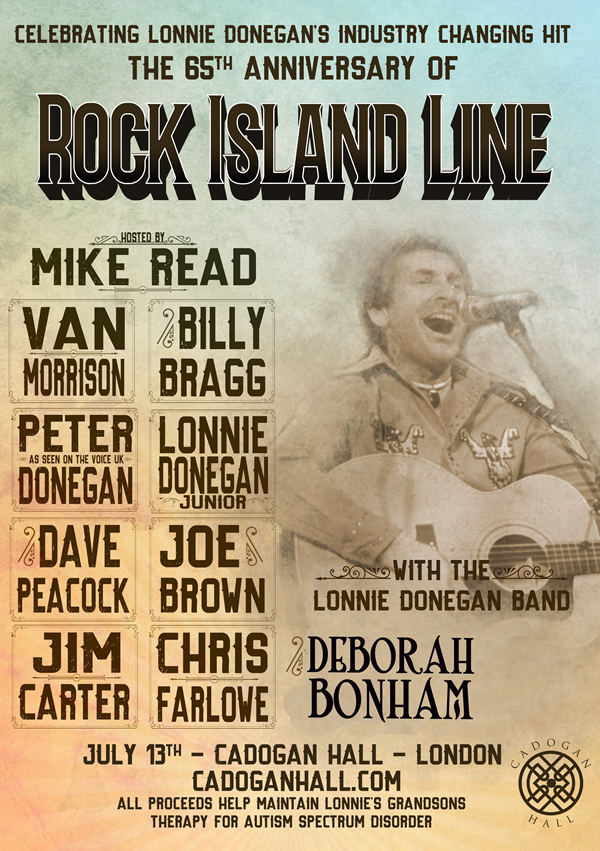 Sat 17 August WEYFEST, Farnham Surrey, UK

Read more here: www.weyfest.co.uk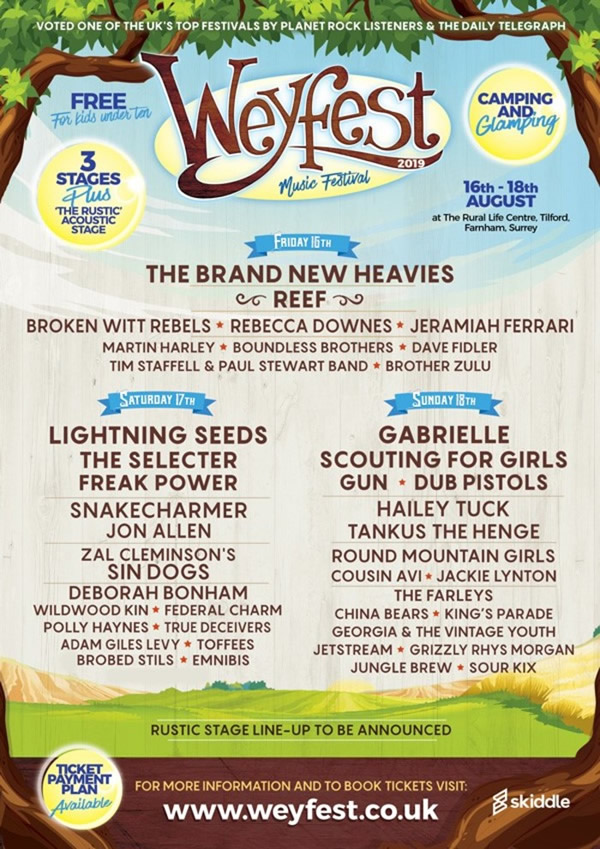 NEWS & TOUR DATES 2018
Cobstock Festival, Cobnor, West Sussex: 1st June 2018
Read more here: https://www.cobnor.com/Cobstock9
Linton Festival Saturday 7th July 2018
Click Image below for more info or to buy tickets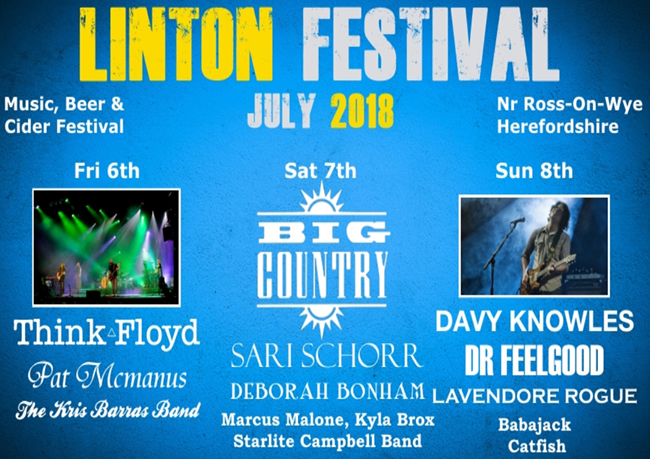 Read more here: http://www.lintonfestival.org/
Cookley Festival Kidderminster, Worcestshire 8th July 2018
Read more here: https://www.seetickets.com/event/cookley-music-festival/cookley-sports-fields/1227093
Montelimar Agglo Festival 10th July 2018
Click Image below for more info or to buy tickets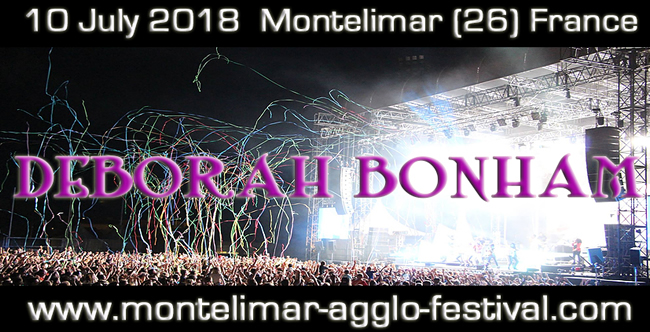 Read more here: www.montelimar-agglo-festival.com
Stars Align USA Tour 2018: 13th July - 28th August
Paul Rodgers, Jeff Beck, Ann Wilson, Deborah Bonham. Deborah's band once again back Paul Rodgers, following the success of the 'Free Spirit' 2017 UK tour along with Deborah Bonham opening the evening's entertainment.
Click Image below for more info or to buy tickets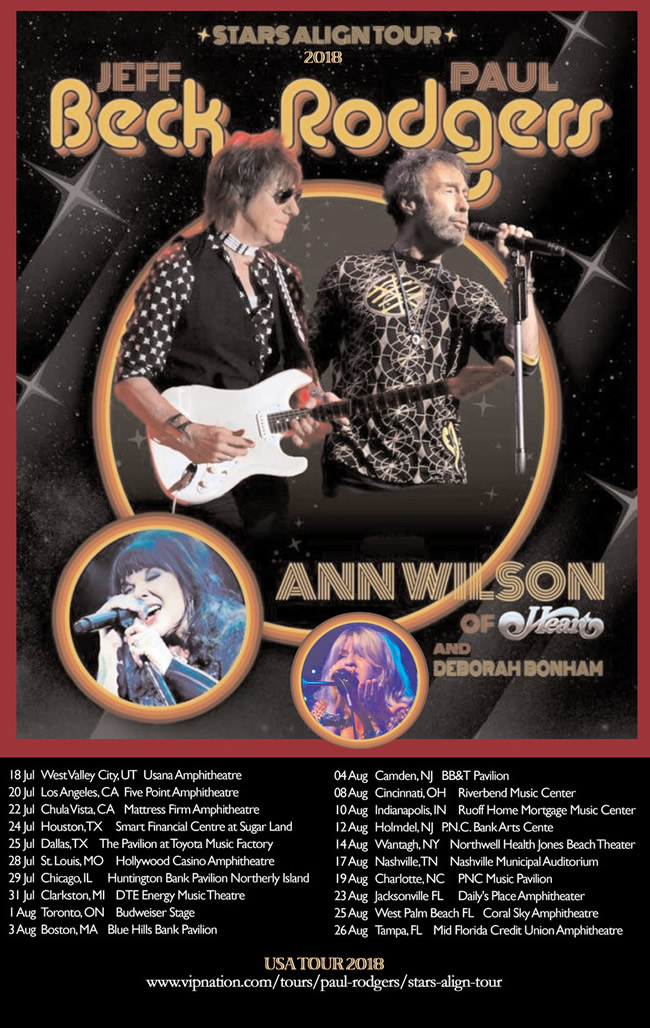 Read more here: www.vipnation.com/tours/paul-rodgers/stars-align-tour
Huntingdon Hall , Worcester 3rd November 2018
Read more here:http://www.worcesterlive.co.uk/events_review.asp?eid=453061051
Previous Tours 2018
26th January 2018

New CD Release - Tribute to Blues Legend Elmore James


Featuring Deborah Bonham, Tom Jones, Betty LaVette, Keb Mo, Warren Hatnes, Billy Gibbons, Mollie Marriott and more. Receiving great reviews and features on BBC Radio 2 Paul Jones, Craig Charles and BBC6 Music shows.
"The honor of singing Elmore James' signature song 'Dust My Broom' went to commanding British vocalist Deborah Bonham. She sings the way her brother (Led Zeppelin's John Bonham) played the drums, with sheer force."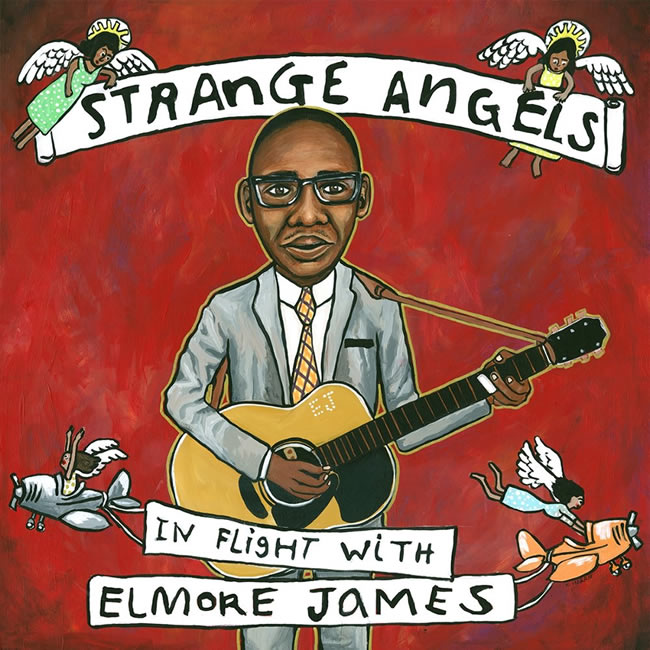 Read more here - https://www.americanbluesscene.com/2018/01/elmore-james-music-takes-flight-via-star-tribute-album/
28th January 2018

Deborah Bonham plays Giants of Rock Festival
Click Image below for more info or to buy tickets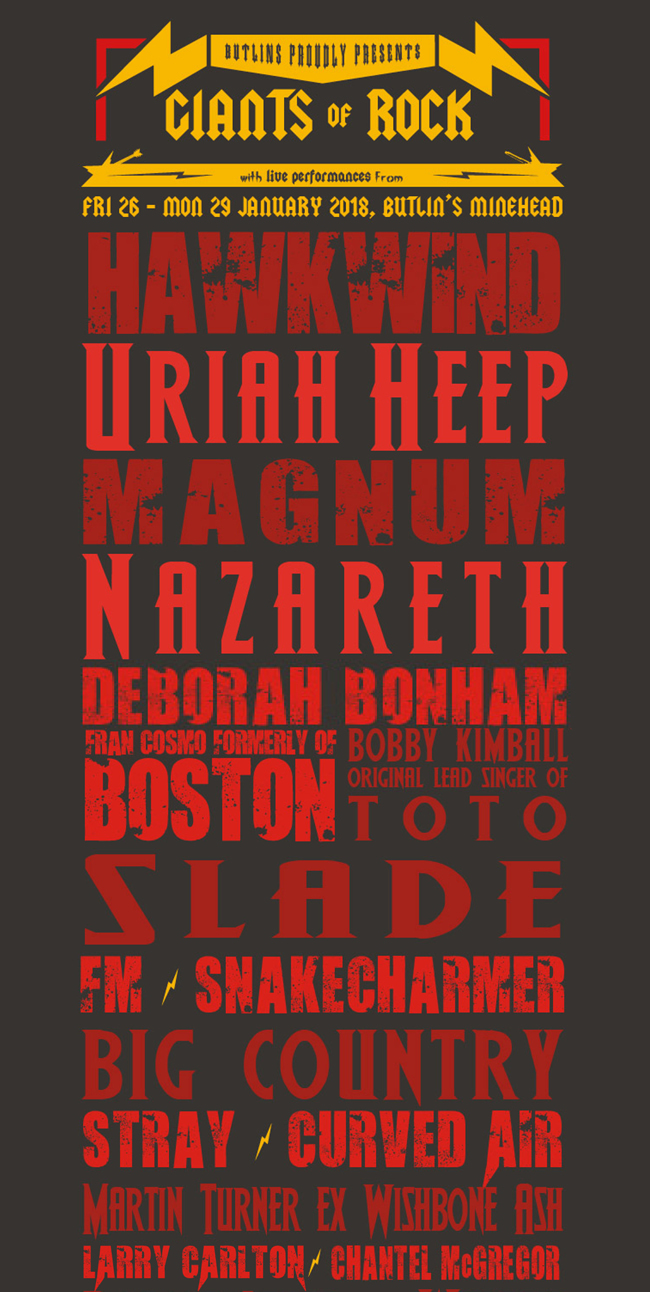 ---
NEWS TOUR DATES 2016/2017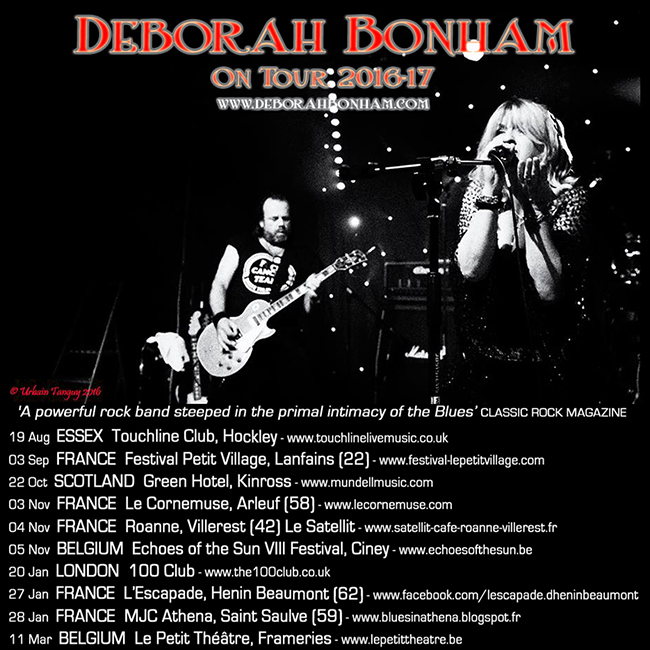 ---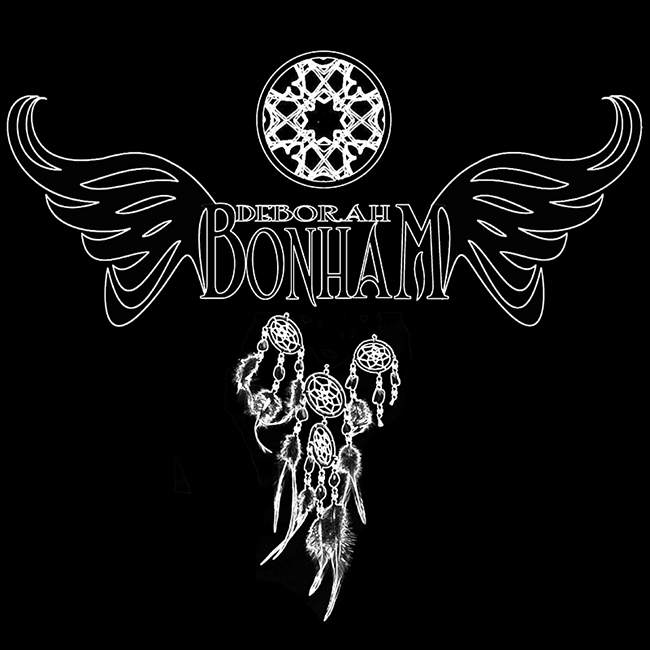 New T-Shirts are available to purchase from our Shop


---
NEWS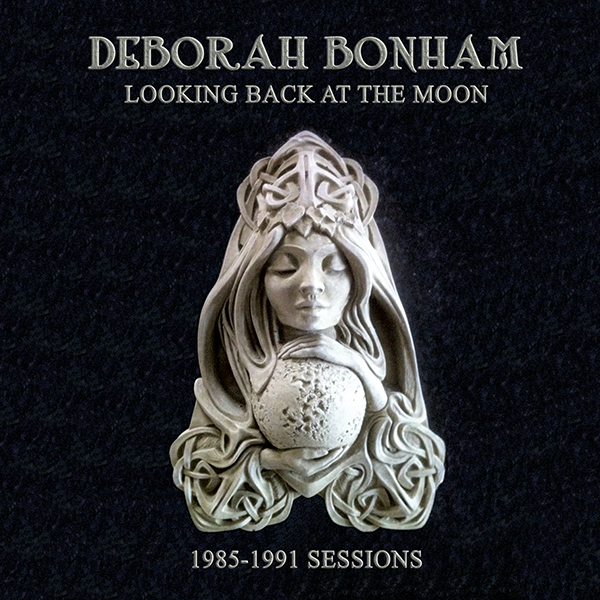 Enhanced versions of all Deborah's albums will be released in the Spring, including additional tracks to her 2014 album Spirit feat. Robert Plant on harmonica. Deborah will be performing many of these songs at Giants of Rock and on tour in 2016, plus several originally recorded in 1985 for her debut album 'For You And The Moon' together with previously unreleased songs. A new CD album 'Looking Back At The Moon', a collection of the 1985-1991 sessions including those unreleased tracks will be available at Giants of Rock and in our web-shop pre-release.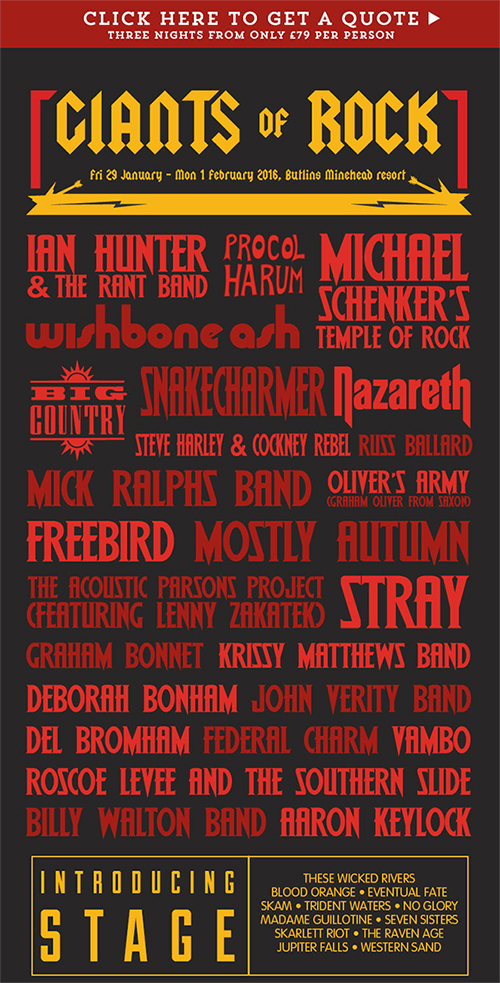 Giants Of Rock


2016 Tour Dates
---
NEWS TOUR DATES 2015/216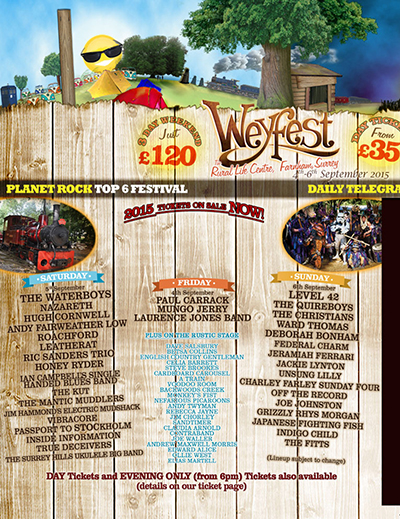 Weyfest 4th-6th September
www.weyfest.co.uk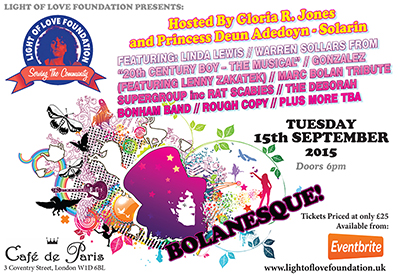 Bolanesque 2015 "LIGHT OF LOVE" 15th-16th September
www.eventbrite.co.uk/e/bolanesque-2015-light-of-love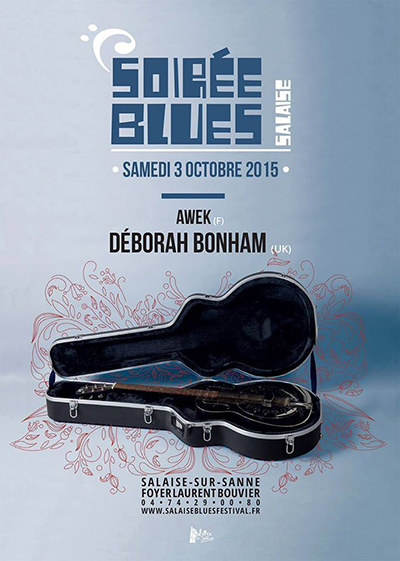 Soirée 3rd October
www.salaisebluesfestival.fr/


The Otway Convention 13th-15th November
www.johnotway.com/southendb.html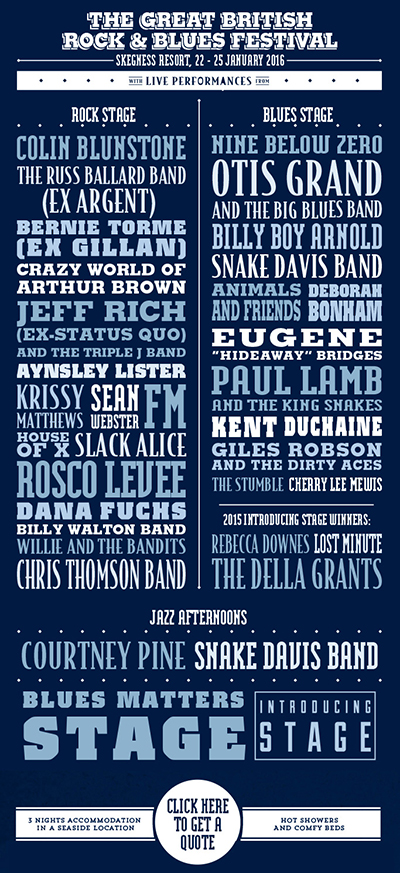 The Great British Rock & Blues Festival 22nd-25th January 2016
www.bigweekends.com/great-british-rock-blues-festival.aspx
---
NEWS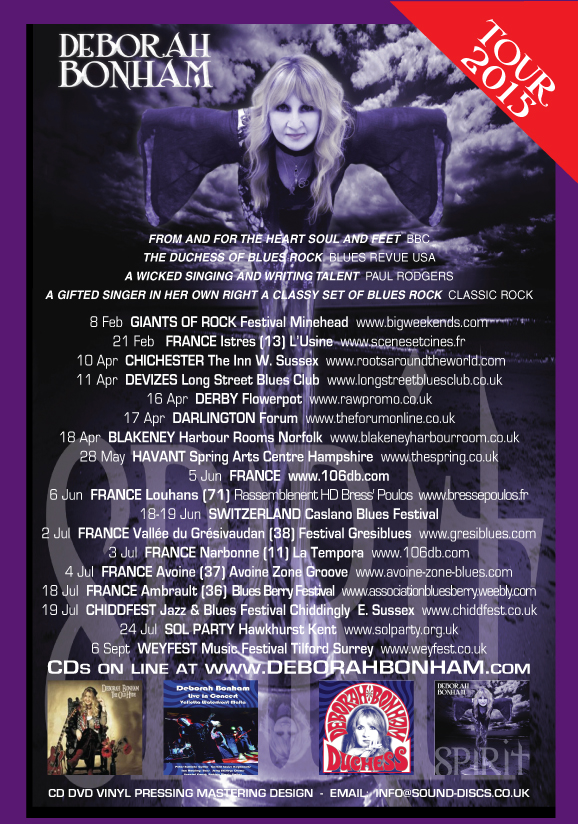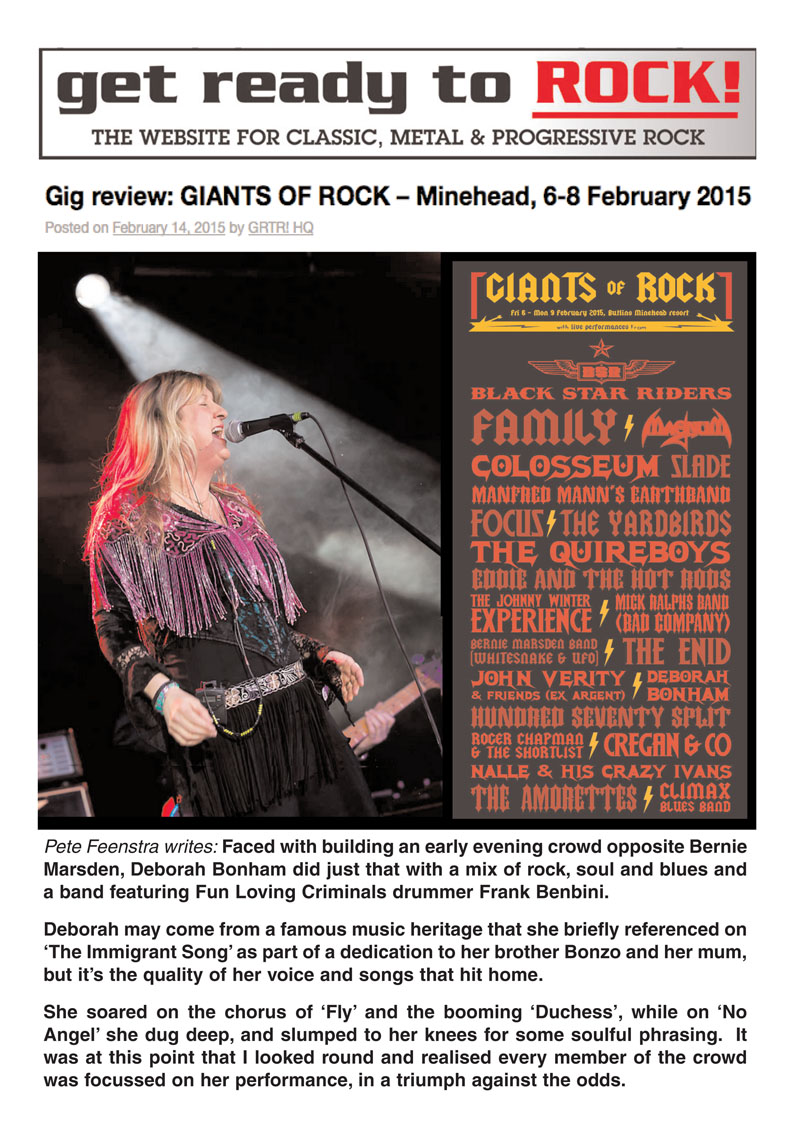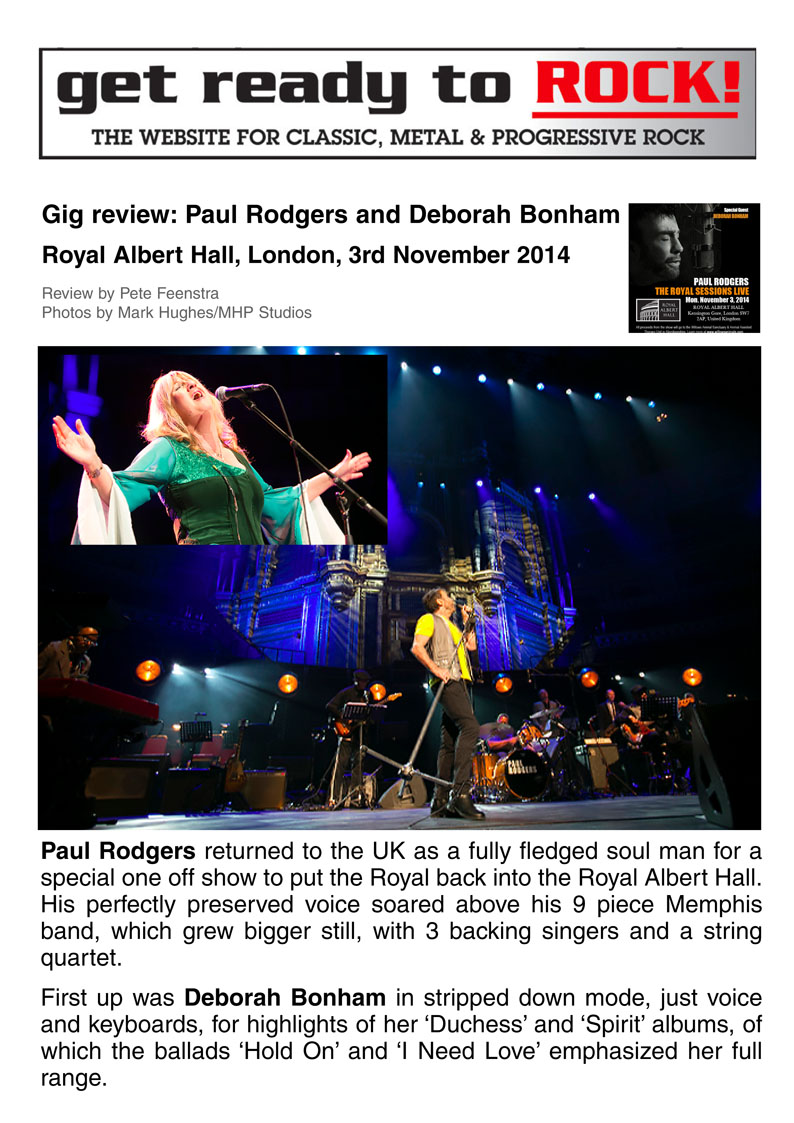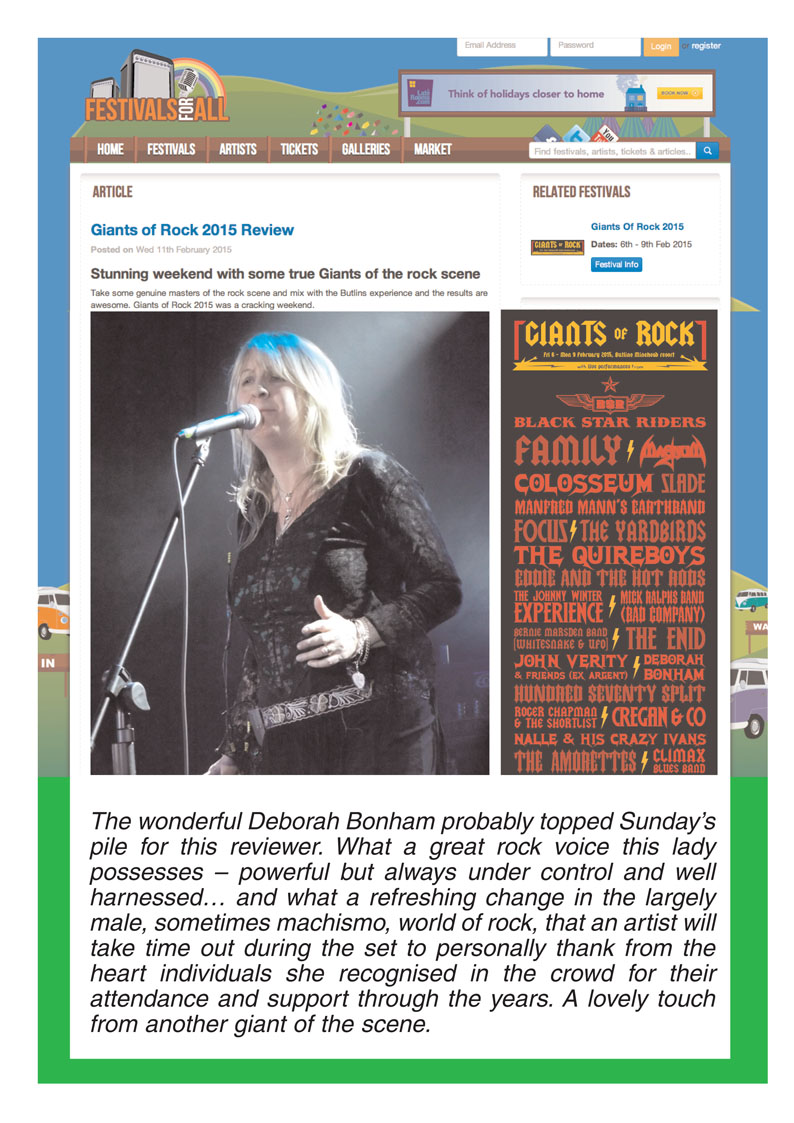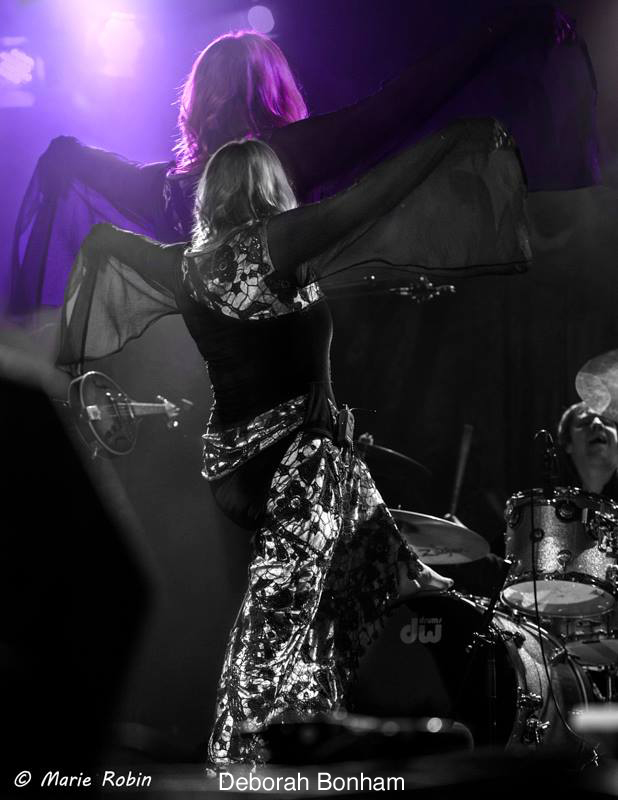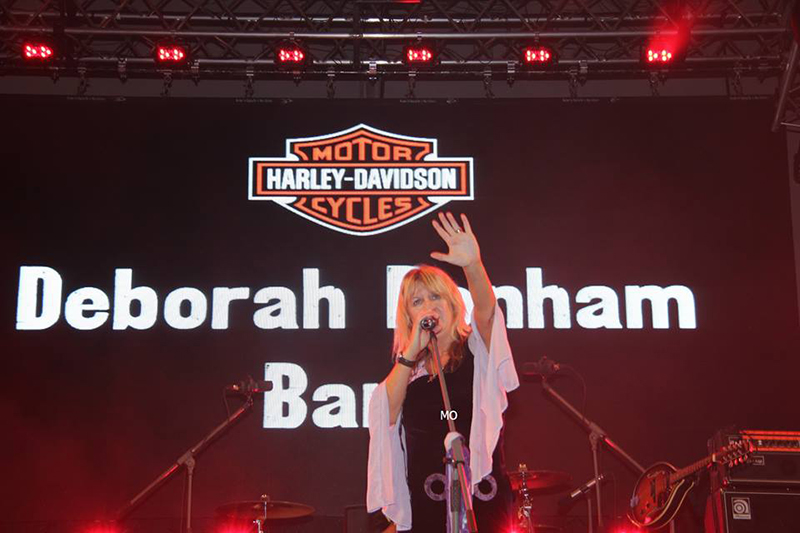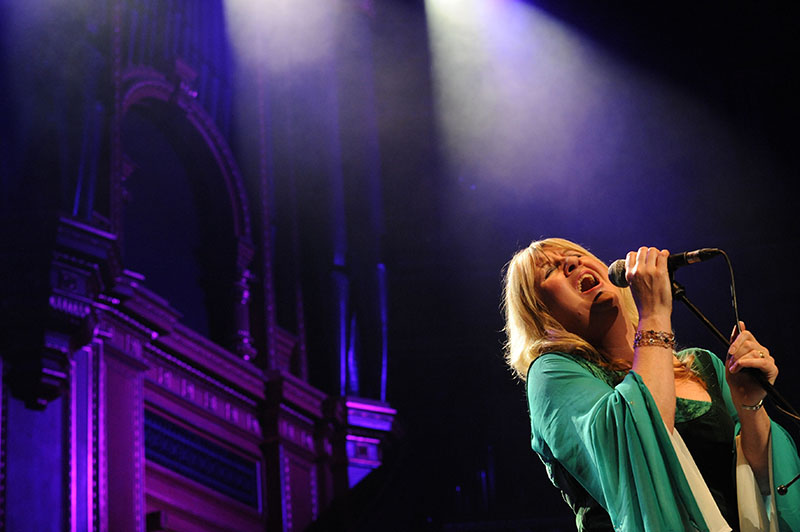 ---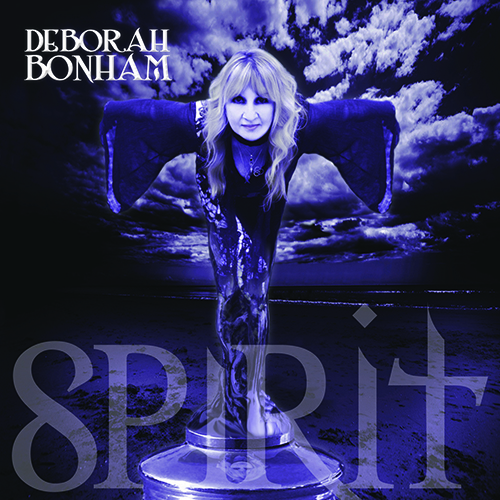 Buy the new CD 'Spirit' featuring special guest Robert Plant - Shop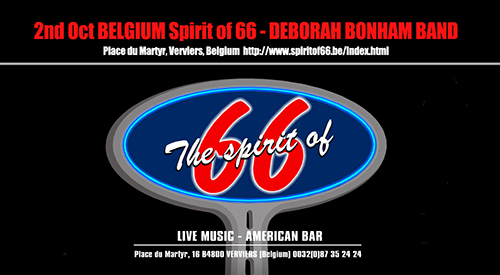 www.spiritof66.be


www.lapucealoreille63.fr/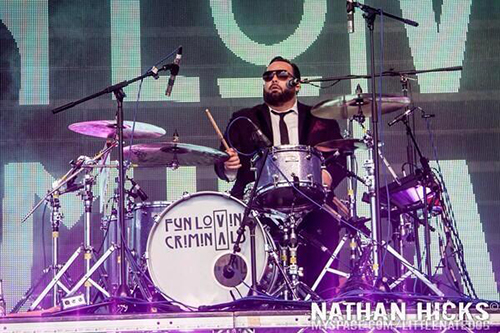 Deborah Bonham and the Band welcome Fun Lovin' Criminals' drummer Frank Benbini to our line up for next week's shows in Belgium (2 Oct Spirit of 66 Verviers) and France (3 Oct RIOM (63) La Puce à l'oreille, 4 Oct Chauffailles Fest)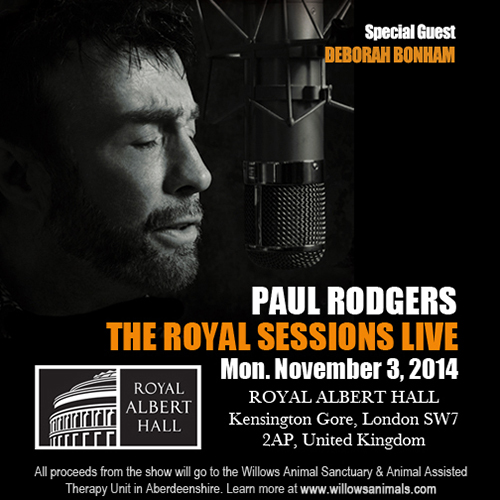 Deborah Bonham acoustic opener for Paul Rodgers for a special show of his latest album, The Royal Sessions, alongside his classic hits from Free and Bad Company. All proceeds from the show will go to the Willows Animal Sanctuary & Animal Assisted Therapy Unit in Aberdeenshire. Learn more at www.willowsanimals.com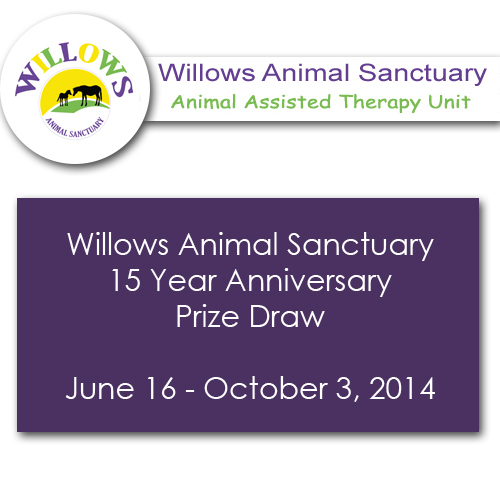 www.willowsanimals.com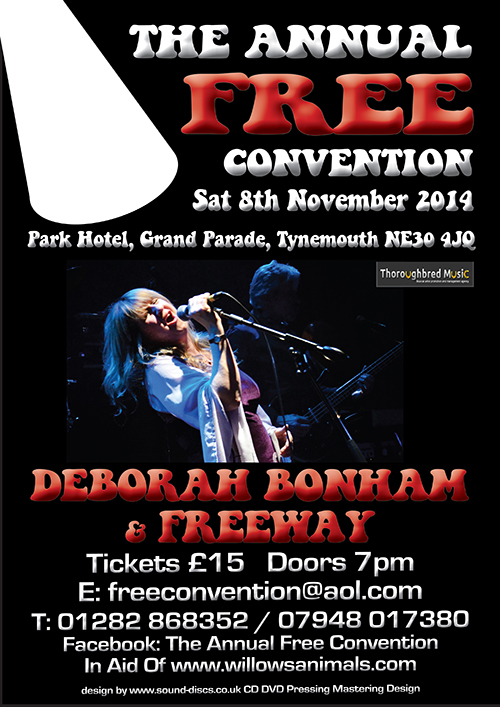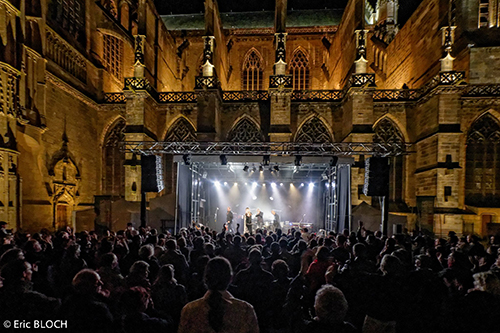 Limoges Festival 2014 Photo by Eric Bloch


Limoges Festival 2014 Photo by Sylvain Barlet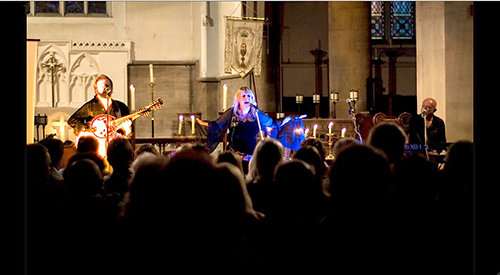 John Bonham Memorial Statue Concert at St Stephen's Church Redditch Worcestershire
Review from Tight But Loose Led Zeppelin Magazine
www.birminghammail.co.uk
www.redditchstandard.co.uk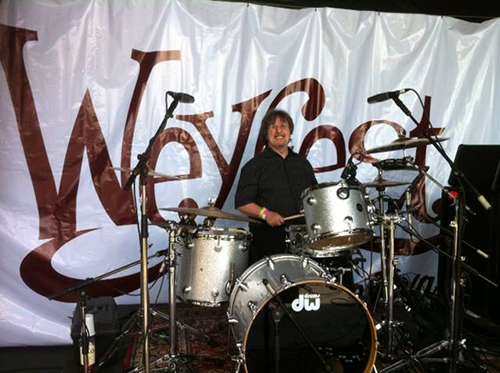 Jerry Shirley (Humble Pie) joins the Deborah Bonham band on drums for Summer festivals in Europe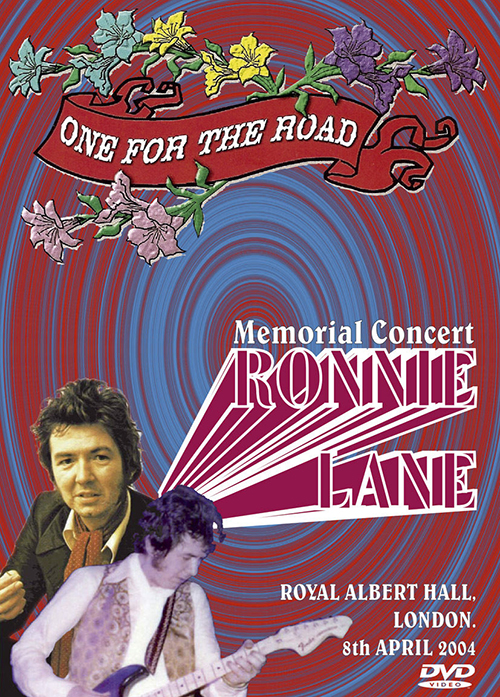 RONNIE LANE 'MEMORIAL CONCERT' DVD VARIOUS ARTISTS
www.amazon.co.uk
At The ROYAL ALBERT HALL, LONDON on 8th April 2004 with DEBORAH BONHAM BAND (Jerry Shirley, Pete, Ian & G), PAUL WELLER, RONNIE WOOD, PETE TOWNSHEND, STEVE ELLIS, MIDGE URE, OCEAN COLOUR SCENE, amongst the artists assembled to perform to a sell-out venue and to pay tribute to a man who co-wrote many anthems such as "Itchycoo Park, All Or Nothing, Here Comes The Nice, My Mind's Eye" to name just a few. RONNIE LANE was the creative heart of two of Rock n Roll's quintessentially English groups, firstly during the 60's with The SMALL FACES then during the 70s with The FACES. After the split of the Faces he formed SLIM CHANCE, as well as working in the studio with ERIC CLAPTON, PETE TOWNSHEND and RONNIE WOOD. 5,500 fans looked on in awe at The ROYAL ALBERT HALL as the superb evening's entertainment ended with "All Or Nothing" featuring a surprise appearance by CHRIS FARLOWE on lead vocals.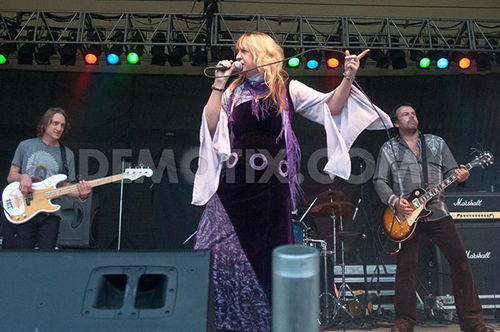 Greg Rzab and Jay Davenport from John Mayall's Blues breakers join the Deborah Bonham Band for USA shows with Bad Company last summer
---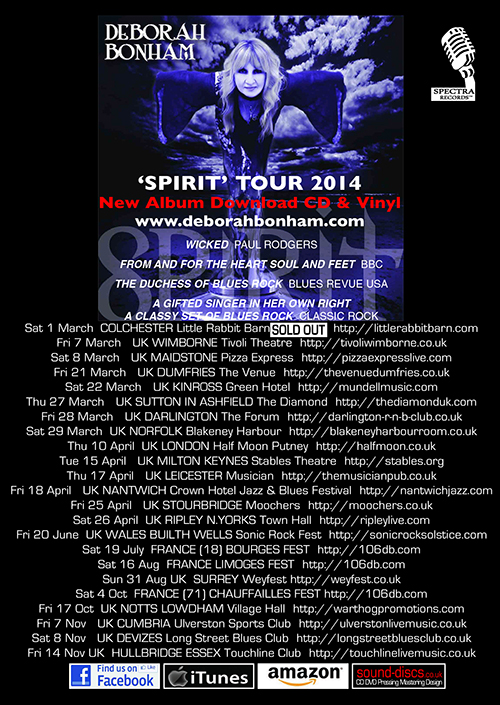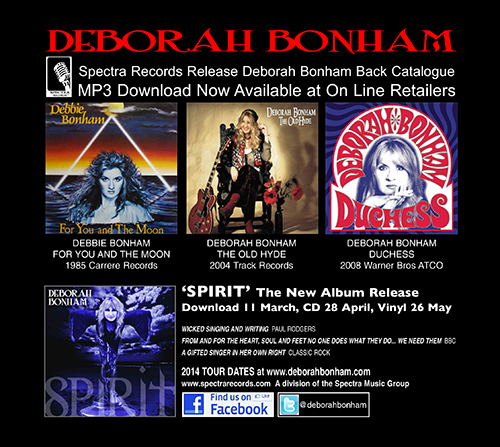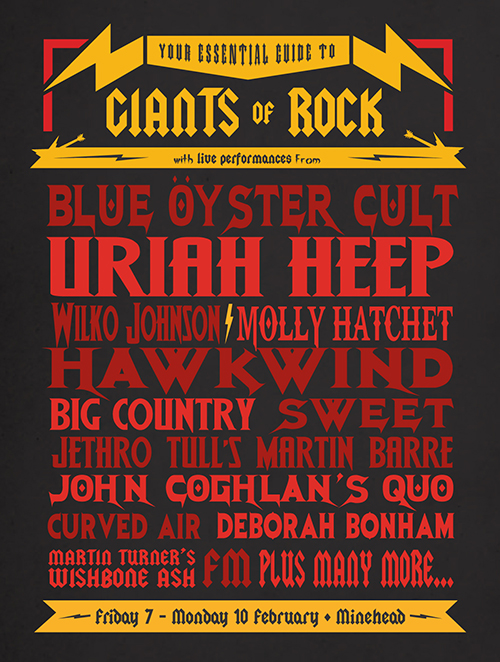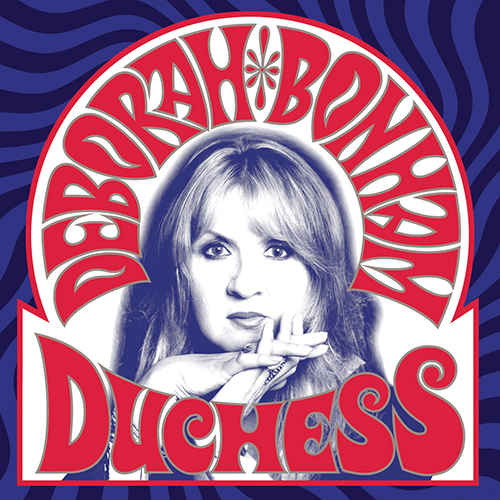 DUCHESS - Deborah Bonham 2008 Warner Brothers ATCO (feat: Paul Rodgers, Jerry Shirley, Jason Bonham, Robbie Blunt, BJ Cole, Dick Parry, Peter Bullick, Ian Rowley, Gerard Louis) MP3 Download now available at online retailers. CD available in our Shop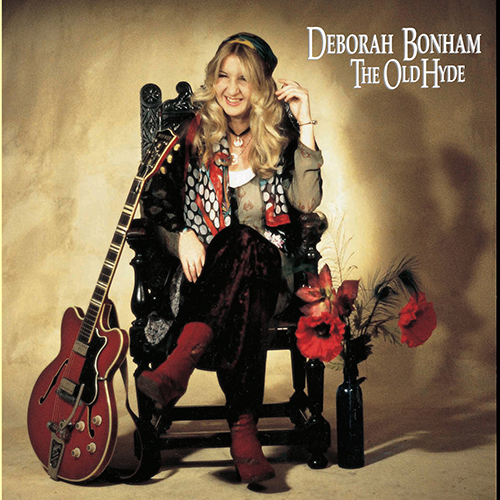 THE OLD HYDE - Deborah Bonham 2004 Track Records CD (feat: Mo Foster, Jason Bonham, Mick Fleetwood, Robbie Blunt, Peter Bullick, Ian Rowley) MP3 Download now available at online retailers. CD available in our Shop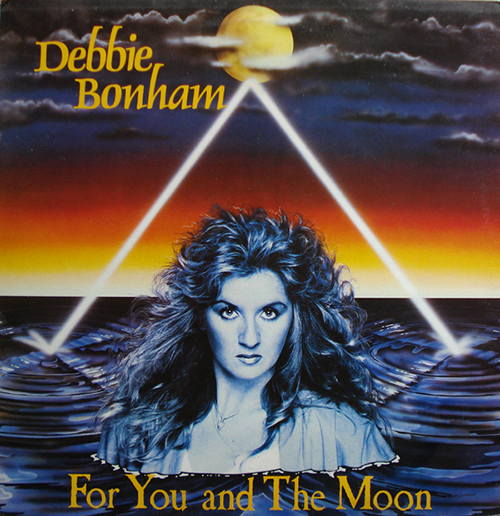 FOR YOU AND THE MOON - Debbie Bonham 1985 Carrere Records LP (Produced by Tony Carey) MP3 Download now available at online retailers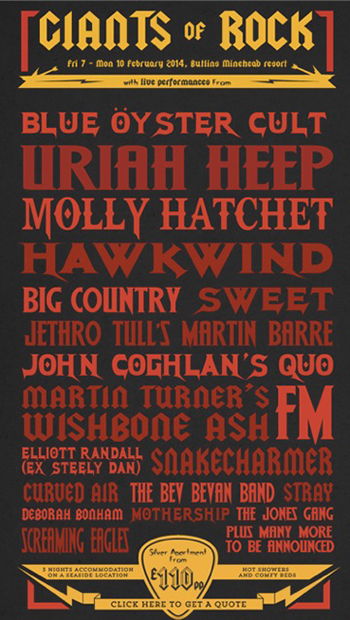 GIANTS of ROCK 7-10th February 2014 Butlins Minehead UK
http://www.bigweekends.com/splash-pages/giants_of_rock.aspx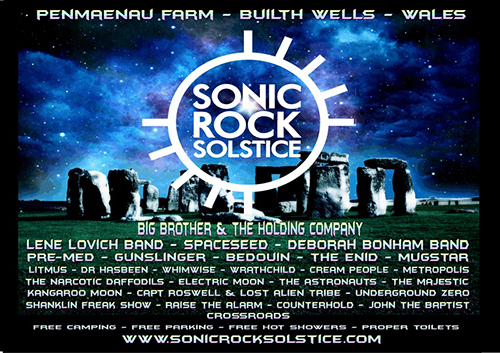 SONIC ROCK SOLSTICE 20-22nd June 2014 Penmaenau Farm, Builth Wells, Wales
http://www.sonicrocksolstice.com/

Sat 7th September LONDON PRIMROSE HILL NW1 Pup Aid (Deborah Bonham Acoustic Show)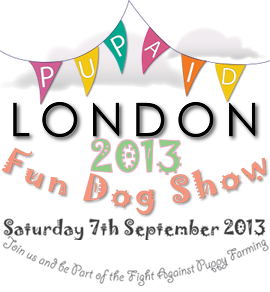 Puppy farming is the mass commercial production of puppies purely for profit and without a thought for the welfare or happiness of the pup, breeding bitch or stud dogs. This very special day will once again give you, the dog-loving public, the golden opportunity to help raise awareness about the UK's cruel puppy farming trade by attending this amazing celebrity judged fun dog show.
http://www.pupaid.org/pup-aid/
---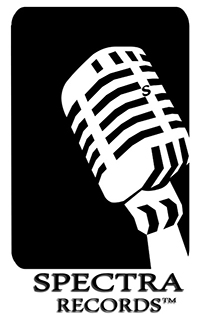 Deborah Bonham Press Release 2013
---

Thu 3rd October STRATFORD, SHAKESPEARE STREET
https://www.shakespearestreet.co.uk

Fri 4th October DERBY, THE FLOWERPOT
https://www.rawpromo.co.uk

Sat 5th October MACCLESFIELD, THE CABIN
https://www.facebook.com/cabin5150

Sun 6th October MARYPORT GOLDEN LION HOTEL (CUMBRIA)
https://www.thegoldenlionhotel.org.uk

Wed 9th October LONDON HALF MOON PUTNEY
https://www.halfmoon.co.uk

Thu 10th October WINCHESTER RAILWAY (HANTS)
https://www.railwaylive.co.uk/

Fri 11th October CHICHESTER, CHICHESTER INN (W.SUSSEX)
https://www.rootsaroundtheworld.com

Sat 12th October WINDLESHAM CLUB & THEATRE (SURREY)
https://www.windleshamclub.org.uk

Wed 23rd October BILSTON, ROBIN 2, (W.MIDLANDS)
https://www.therobin.co.uk

Thu 24th October NUNEATON, The Crew/Queens Hall
https://www.crewrock.co.uk

Fri 25th October ST.HELENS, Citadel Arts Centre
https://www.classicrocksociety.co.uk

6th -10th November FRANCE
https://www.106db.com

Fri 22nd November BRAINTREE, HIGH BARN (ESSEX)
https://www.high-barn.com

Sat 23rd November FOLKESTONE Tower theatre
https://www.towertheatrefolkestone.co.uk

Thu 9th January 2014 BURY, THE MET ARTS CENTRE (LANCS)
https://www.themet.biz

Fri 10th January 2014 MALTBY, THE ROCK (YORKS)
https://www.therockmaltby.co.uk

Sat 11th January 2014 LEICESTER, THE MUSICIAN
https://www.themusicianpub.co.uk
---


from the forthcoming "Spirit" album goes to No 1 on the Reverbnation chart
http://www.youtube.com/watch?v=M7Hj2kWTPcY


---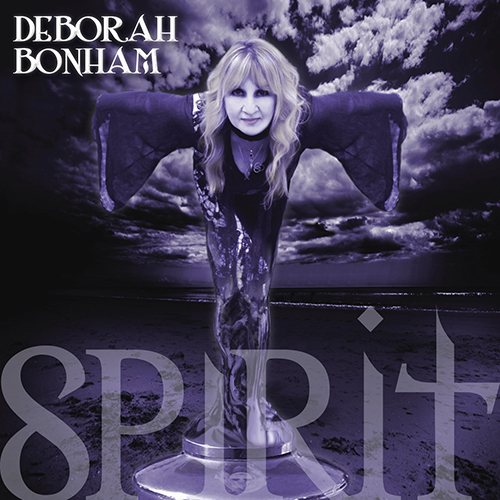 £10 UK, €12 Europe, $15 USA inc P&P
Available to Pre Order from our Shop


---



TOUR & ALBUM NEWS
http://www.musictrespass.com/content/light/tour-news/deborah-bonham-continues-family-tradition-live-tour

TIGHT BUT LOOSE
http://www.tightbutloose.co.uk/tblweb09/?p=19017

RADIO INTERVIEW BROADCAST
http://www.hopehall.org.uk/home/members-blog-and-testimonies/175-stairway-to-heaven-deborah-bonham-sister-of-the-late-john-bonham-led-zeppelin-talks-about-her-faith

LED-ZEPPELIN.ORG
http://www.led-zeppelin.org/joomla/archived-news/2012-news/1992-how-a-dream-changed-deborah-bonhams-life

---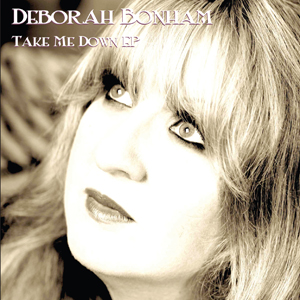 1. Take Me Down, 2. Bring Out The Joy, 3. Lightning Ray, CD Extra with Take Me Down Video (Plays on PC & Mac).

From the Forthcoming Album 'SPIRIT' Due for March 2013 Release.

Available for download worldwide from all on-line retailers.

Read the reviews:

Northern Sky Review Sep 2012
Blues Roots Review Sep 2012



---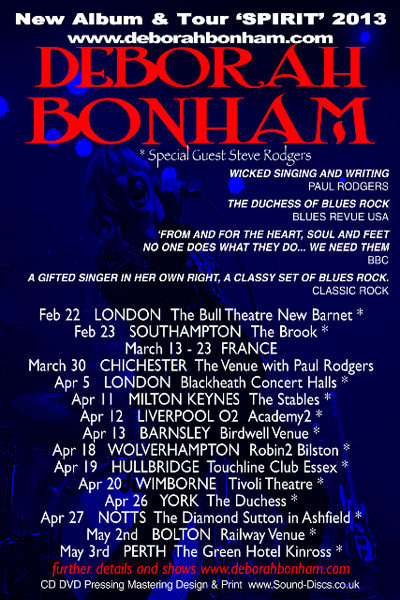 Deborah Bonham Tour Dates 2013 (UK/Europe/USA)


---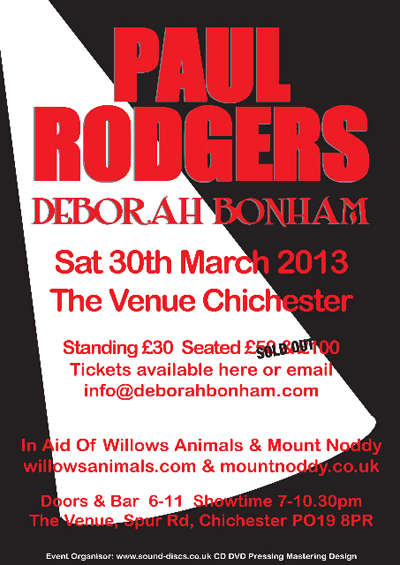 ---

HOUSE OF MERCY RADIO SHOW
Performing 5 new songs live https://www.houseofmercy.tv/HOMSchedule.php

SAT 6th - on TOTALROCK, 12-3AM http://www.totalrock.com/
SAT 6th - on WILDMAN STEVE 6-9PM http://www.wildmansteve.com/
SUN 7th - on TAINT RADIO 1-4AM http://taintradio.org/
SUN 7th - on FREE PHOENIX 8-11AM http://www.radiofreephoenix.com/
SUN 7th - on RADIO SEAGULL 10AM-1PM and 10PM-1AM
http://www.radioseagull.com/
WED 10th on TAINT RADIO 11PM-2AM http://taintradio.org/
THU 11th on TAINT RADIO 8PM-11PM http://taintradio.org/
FRI 12th - on UK INTERNATIONAL 12 -3PM http://www.radioukinternational.co.uk/
FRI 12th - on TAINT INTERNATIONAL 1-4PM http://taintradio.org/


---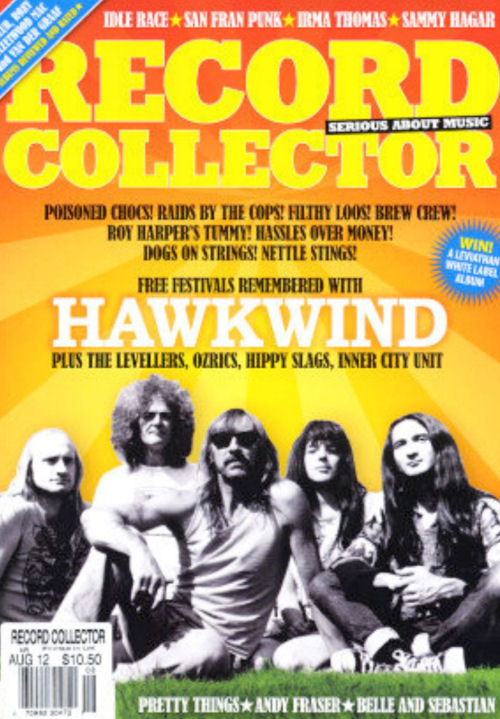 Nearly £40,000 Raised

Charity Concert for the Racehorse Sanctuary raises nearly £40,000.

Read the Record Collector review


---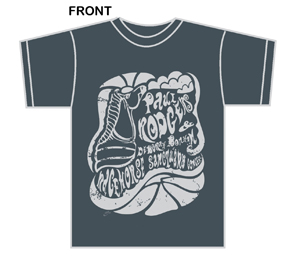 Paul Rodgers & Deborah Bonham Racehorse Sanctuary Concert T Shirts available from our shop

Go To Shop








---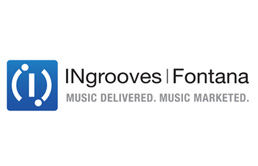 INgrooves|Fontana

Deborah Bonham signs new worldwide deal with INgrooves/Fontana. The new album is scheduled for early 2013 release and a single release planned for Autumn 2012. Deborah's previous album catalogue and some special rarities will also be available on INgrooves/Fontana.

www.ingroovesfontana.com


---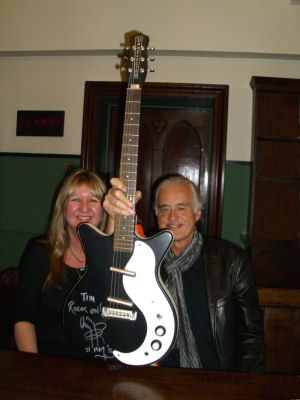 Jimmy Page Auctioned Guitar for Racehorse Sanctuary

Jimmy Page signs a replica of his Dan Electro guitar auctioned for £6000 at the Paul Rodgers and Deborah Bonham, Racehorse Sanctuary concert.


---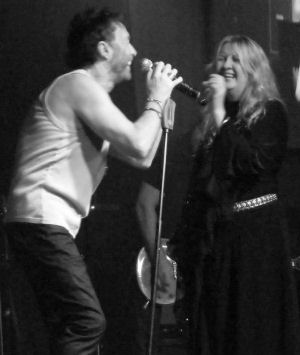 Nearly £40,000 riased for Racehorse Sanctuary

A fabulous success for the Racehorse Sanctuary Charity concert, Paul Rodgers and Deborah Bonham raise nearly £40,000


---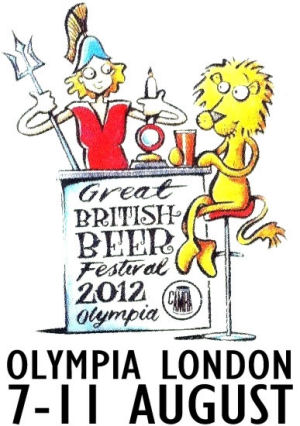 Great British Beer Festival

Deborah and the band will be playing Olympia London at Planet Rock Radio's Great British Beer Festival on 10th August 7pm and 9pm, admission only £8, or win tickets at:

www.planetrock.com/win/win-tickets-to-the-great-british-beer-festival/


---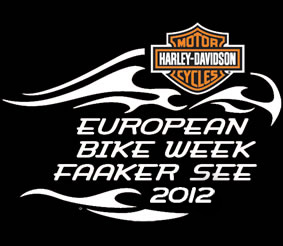 Faaker See, Austria

We return to Faaker See, Austria to play 2 nights at the Harley Davidson European Rally 7th & 8th September.

www.hogeuropegallery.com/ebw/


---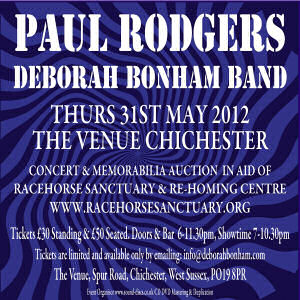 Thursday 31st May 2012 Paul Rodgers & Deborah Bonham Band @ The Venue Chichester UK

Paul Rodgers has announced that he will be playing his only UK concert this year on Thursday May 31st in Chichester at The Venue. Joining Rodgers on the bill will be Deborah Bonham and her Band who will be performing songs from their new album. Two children's groups from the Chichester Music Academy who work closely with the charity, will open up the evening. All of the proceeds from the concert will go to The Racehorse Sanctuary and Rehoming Centre, a self funded Charity.

Tickets are limited and available only by emailing info@deborahbonham.com for booking information
Doors and Bar open 6-11.30pm, Showtime 7-10.30pm
Ticket Prices £30 standing and £50 seated
The Racehorse Sanctuary, Bridgehill Farm, Thakeham Road, Coolham, West Sussex RH13 8QD
www.racehorsesanctuary.org


---
FACEBOOK USERS...

Please click on this link and vote for the racehorse sanctuary. The charity with the most votes at the end of the month, wins 5000.00 GB Pounds www.facebook.com/FeelGoodPark


---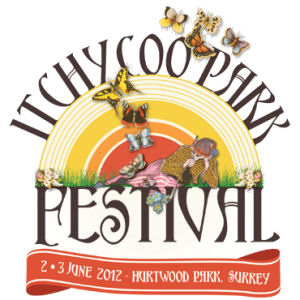 Saturday 2nd June Itchycoo Park Festival
www.itchycooparkfestival.com

Deborah Bonham, Kenney Jones, Steve Craddock Band, PP Arnold, Joe Brown, Jerry Shirley, Mike Rutherford, Bill Wyman, New Amen Corner, Slim Chance and many more.
On 2nd & 3rd June, Hurtwood Park Polo Club in Surrey will be transformed into Itchycoo Park, the mythical home of four East End lads who together, were one of the biggest and most influential British groups of the 1960s – Steve Marriott (lead vocals, guitar), Ronnie Lane (bass), Ian McLagan (Hammond organ), and Kenney Jones (drums), otherwise known as...The Small Faces. A host of bands and performers, including some of the biggest stars from the 1960s right up to the present day, will join original members Kenney and Ian (Mac) to pay musical homage to the band.

Itchycoo Park Festival will open its gates at 9am on Saturday 2nd June and continue through until 10.30pm on Sunday. Both single day and weekend tickets are now on sale.
There will be ample parking and camping facilities on site, plenty of refreshment areas, a Farmers Market, two fantastic music stages and much more to ensure you're time is a great one. So come join us at Itchycoo Park and have a music and fun filled weekend.
Hurtwood Park, Ewhurst, Surrey GU6 7SW


---


Listen on line to Deborah Bonham's after show interview with Get Ready To Rock
www.getreadytorock.com/reviews2012/12rockandblues.htm


---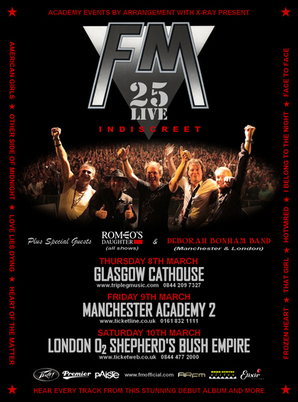 2012 UK Shows

January 2012
Sat 28: Skegness Rock and Blues Festival UK

March 2012
Sun 4: Mr Kyps, 8a Parr St, Poole Dorset BH14 0JY www.mrkyps.net

Fri 9: Manchester Academy 2 with FM and Romeo's Daughter

Sat 10: O2 Shepherds Bush Empire, London with FM and Romeo's Daughter

Sat 24: Robin 2, 20-28 Mount Pleasant, Bilston, Wolverhampton WV14 7LJ with Nazareth www.therobin.co.uk

Sun 25: The Diamond, 47 Stoney St, Sutton-in-Ashfield, Notts NG17 4GH www.thediamonduk.com


---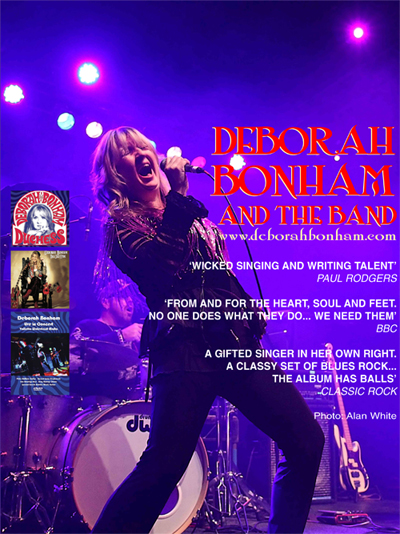 DEBORAH BONHAM BAND - live dates in Germany

Thurs 19: TORGAU: 04860 Torgau, Kulturbastion, Straße der Jugend 14 B

Sun 22 : NEUGERSDORF: 02727 Neugersdorf, Stadl am Stadion, Richard-Breitscheidt Str. 2

Mon. 23: GREDING: 91171 Greding, Hippodrom, Industriestr. 16

Wed. 25: DUSSELDORF: 40474 Düsseldorf, Messe Messeplatz

Thurs 26: KORBACH: 34497 Korbach, Kulturfabrik, Briloner Landstr. 93


---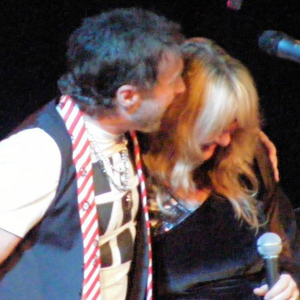 RACEHORSE SANCTUARY CONCERT
Thank you so much to everyone that came and supported the charity concert with Deborah Bonham, Paul Rodgers, Tony Moore, Steve and Jasmine Rodgers on December 3rd. It was a huge success thanks to all involved, audience, volunteers, venue staff, the performers and Deborah's band who backed both Paul and Deborah. We raised approx 38,000.00 GB Pounds, www.racehorsesanctuary.org, which is amazing, thank you. We have some items for sale, a signed tambourine played on the evening by Paul Rodgers. Paul, Deborah and the band have signed the drum skins played on the night.

"The atmosphere was absolutley electric from start to finish. I'm still feeling the buzz. A huge thanks to the fans, Deborah Bonham and band, Room 4, Steve and Jasmine Rodgers and the racehorses at the sanctuary and rocking horse children's charity thank you too. Let's do it again!" - Paul Rodgers


---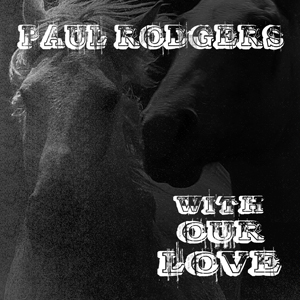 PAUL RODGERS CELEBRATES BIRTHDAY WITH RELEASE OF NEW SONG "WITH OUR LOVE"
One Hundred Percent of The Proceeds Will Be Directed To The Racehorse Sanctuary & Rocking Horse Children's Charity and Seraphim 12 Foundation London, UK - December 17, 2011 - Paul Rodgers has released a new studio recording that is available exclusively on-line via CD Baby, and all other digital retailers. The song "With Our Love" has been shared with fans and the public on his 62nd birthday, with one hundred percent of the proceeds earmarked for the charities The Racehorse Sanctuary & Rocking Horse Children's Charity and Seraphim 12 Foundation. The composition was co-written and performed by Perry Margouleff, whose friendship with Rodgers dates back to over twenty years ago when they met in the U.K. while Margouleff was performing with The Pretty Things. They have collaborated over the years. All of these charities are organizations Rodgers has offered significant support to in the past, in fact he is a Patron of one while Perry Margouleff is a Senior Board Member of the other. Rodgers shared, "Horses are such a powerful part of human development and have been since the early ages. We humans owe them so much. My wife Cynthia and I have visited both sanctuaries and can't imagine any of these healthy vibrant beings being sent off to die. Especially Seraphim 12's 'Daisy,' who was to be slaughtered for human consumption at four months of age! Or ex-racehorse 'Mr. Streaky,' who due to human error developed anxiety and fear issues which now after eight years he is finally starting to overcome, and in doing so is helping the autistic and inner city kids who visit the sanctuary. Blues great Willie Dixon believed that 'Once we know better we can do better'...so now that we know better, let's do better."

For more information on these charities, Paul Rodgers and Photos, click these links:
www.racehorsesanctuary.org
www.seraphim12foundation.org
www.paulrodgers.com

The song "With Our Love," can be found on-line here: http://cdbaby.com/cd/paulrodgers


---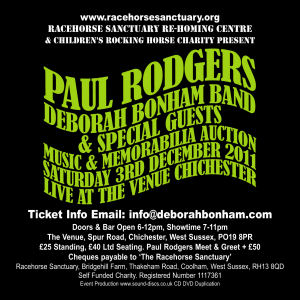 RACEHORSE SANCTUARY
www.racehorsesanctuary.org
Racehorse Sanctuary Re-homing Centre & Children's Rocking Horse Charity Present
Paul Rodgers, Deborah Bonham Band & Guests, Music & Memorabilia Auction, Saturday 3rd December 2011
Doors & Bar open 6-12pm, showtime 7-11pm
The Venue, Spur Road, Chichester, West Sussex, PO19 8PR, UK

Ticket Info Email: info@deborahbonham.com
£25 Standing, £40 Limited Seating, additional £50 for Paul Rodgers Meet & Greet
Cheques payable to 'The Racehorse Sanctuary'
Racehorse Sanctuary, Bridgehill Farm, Thakeham Road, Coolham, West Sussex, RH13 8QD
Self Funded Charity. Registered Number 1117361
Event Organised by www.sound-discs.co.uk
---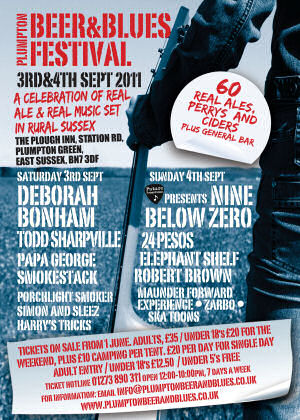 PLUMPTON BEER & BLUES FESTIVAL
3rd and 4th September 2011

A celebration of real ale & real music set in rural Sussex!
The Plough Inn, Station Road, Plumpton Green, East Sussex, BN7 3DF
Email: info@plumptonbeerandblues.co.uk
Web: www.plumptonbeerandblues.co.uk
---

Rock Radio - Deborah Bonham takeover playlist
Find out what Deborah Bonham played when she took over Rock Radio!
www.rockradio.co.uk
---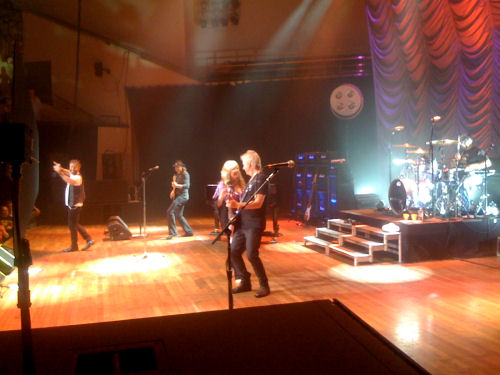 22 April 2011
Deborah performs 'Can't Get Enough' with Paul Rodgers at Nottingham Concert Halls. Made extra special with Jason Bonham on drums.

---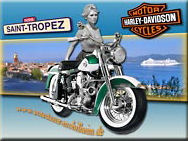 14th May The Harley-Davidson EuroFestival
Set to rock the Golfe de Saint-Tropez once again, from May 12-15, 2011!
www.harley-davidson.com
---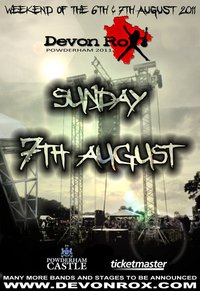 7th August Devon Rox Festival
See Deborah along with Saint Jude, Quireboys, Girlschool, Heaven's Basement, Funeral For A Friend, My Passion and many more at UK's newest open air festival. Devon Rox will be held over the weekend of August 6/7th at Powderham Castle, nr Exeter. Only £45/£55 for weekend camping.
www.devonrox.com

Listen to the Total Rock Radio advert for Devon Rox Festival
www.totalrock.com
---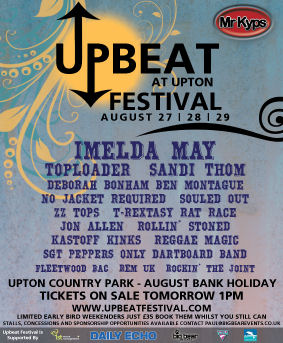 28th August Upbeat Festival
With Imelda May, Top Loader, Ben Montague, Sandi Thom
www.upbeatfestival.com
---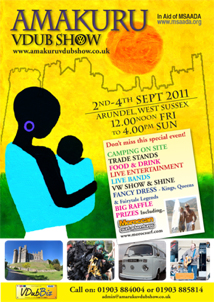 Amakuru VDUB Show
2nd September VDUB festival at Arundel Castle
http://www.turnhamdesign.co.uk/Amakuru/Home.html
---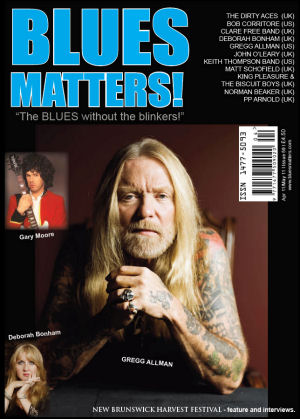 Blues Matters!
Feature interview, Deborah Bonham in this month's Blues Matters Magazine
http://www.bluesmatters.com
---
Older News >>